No one wants to be bitten or stung by any kind of insect, but bed bugs have to be some of the most feared.  Not because of the bite itself, but because of what it means about the space you are in.  If you have been bitten by what you think is a bed bug there are ways you can treat the bites.  This article below offers a lot of simple tips as well as how long the bites last, and why the insects bite in the first place.
How to Treat a Bed Bug Rash
How Does an Individual Get a Bed Bug Bite Rash?
Bed bugs commonly infest summer cabins, especially at camps, hiking trail shelters and parks. Many times, when they are found in an urban home they can be traced back to a visit to one of these facilities.
These parasites are attracted to warmth, which is why they bite us as we sleep. They are also attracted to carbon dioxide, which is what is exhaled by oxygen breathing species.
They reside in dark areas and crevices near the host. Their only food is the blood they obtain from the host. Hosts for this bug are many different species of vertebrates including canaries, poultry, guinea pigs, cats, dogs, mice, bats and unfortunately, man.
How They Feed
These bugs feed on the host while the host sleeps, generally just before dawn. They will usually not be seen during the daylight hours unless the infestation is severe.
This bug will secure itself to the host's skin using its claws and then inserts it 'beak' into the skin of the host. The 'beak' consists of two tubes (stylets); one sucks up the host's blood while the other injects saliva (venom) in the wound.
This saliva assists in preventing the host's blood from coagulating to keep it flowing. It also has an anesthetic to numb the feeding area on the host. This saliva is what causes the itching sensation on the host's skin.
Feeding Based on Age
Nymphs (adolescents) feed for approximately three minutes while an adult may continue to feed on the blood of the host for ten to fifteen minutes.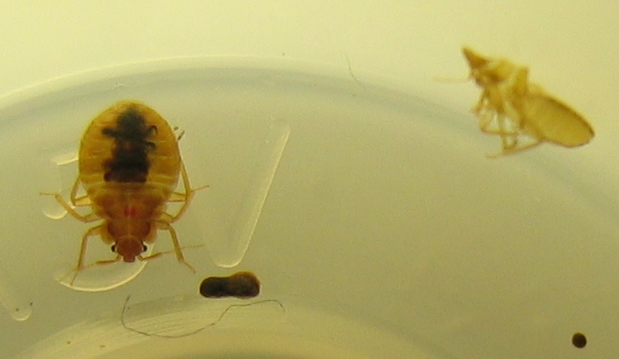 Amazingly, they can survive 18 months without any oxygen and as much as a year without any blood. The bites cause burning, itching and swelling. The degree of symptoms depends upon the host's susceptibility.
How Common are These Rashes?
The National Pest Management Association has stated that prior to the year 2000, as few as 25% of the pest control companies in the United States had encountered an infestation of these nasty bugs. Currently that number has risen to 95%.
At this point in time 76% of the United States pest control professionals think that this bug is the most difficult pest to eradicate.
Companies that previously received one or two calls per year are now reporting that they receive one or two calls weekly.
Why has the Infestation Returned?
There are various factors that are contributing to the resurgence in the United States. Citizens are frequently traveling to foreign areas that are infested.
Second-hand furniture and furnishings have become extremely popular. Populations have increased their resistance to the various pesticides. Control has been neglected by the pest control industry since the '40s.
What Does a Typical Bite Rash Look Like?
When these bugs bite an individual, they can develop a rash. These rashes have the ability to cause an extremely irritating itching sensation. The actual rash is not considered to be detrimental to one's health.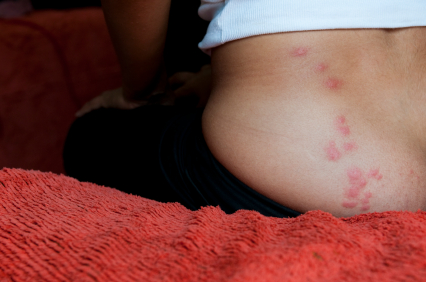 Many times a rash is mistaken for bites that are caused by insects commonly found in a household. These insects include fleas, lice, ants and mosquitoes. The truth is that the majority of individuals are not aware they have been fed on by these parasites. Many times, they assume the rash is just a skin allergy.
However, once you are aware of what to look for, it is very easily recognizable.
One of the first signs is numerous tiny or raised skin bumps. These bumps will always be in a row or cl ustered pattern. This is because they generally feed more than one time at the same location.
Other Signs to Watch Out For
The next sign is that the bites will occur nightly while sleeping and the rashes will increase daily. These rashes will usually be located on the legs, arms, neck, face and back, which are the most common areas. The reason these places are the most common sites is because these areas are usually exposed during the night. Exposed areas of the host are what they prefer.
For a lot of individuals these tiny red bumps will generally manifest hours or even days after the bite. These bumps will then begin to itch. If these bumps are scratched, the area may become inflamed because of a severe infection.
The bites or welts are misdiagnosed by many dermatologists as bites from fleas or even scabies. Only around half of the populace notices the very first bite and makes the correlation to these bloodsucking bugs.
Many reactions to bites are delayed for approximately ten days. People over the age of 65 either react less or are not usually bitten. In one survey, 42% of individuals over 65 years reported no bites or reactions even though there was an ongoing presence.
Personality
These bugs are very shy and cautious. During the night, they are attracted to the odors and warmth of the closest human being. Believe it or not, they are able to feed for ten minutes or longer non-stop!
One will consume as much as six times its body weight in blood. However, usually the individual is unaware that they are being bitten. Once they have completed feeding, they look extremely bloated and have even been characterized as animated blood drops.
Not only can bites create a rash or welts, they also have the ability to spread disease organisms that bring on digestive and nervous disorders. Allergic reactions, particularly in more sensitive individuals can occur. The have been known to carry contributory agents for plague, anthrax, tularemia, typhus, relapsing fever and yellow fever.
They have been known to CARRY these diseases; at this point in time, there is NO PROOF that they actually TRANSMIT them. Children residing in homes that are extremely bug-ridden tend to become pale and listless.
How Long Does a Bite Rash Last?
Usually, the rash will appear several hours after the actual bite has occurred. In some cases, however, the rash may not appear for days. The appearance of the rash is dependent upon the individual's allergic reaction to the bites. For the most part, the rash will last just a few days and then begins to fade slowly.
Unfortunately, the bite rash does have the ability to last a lot longer if the individual has a more intense allergic reaction to the bites. Some individuals will not have any reaction whatsoever, while others who have more sensitivity to allergies may develop rashes that cause extreme itching as they are continuously bitten nightly.
Many times medical attention will be necessary for these individuals to eliminate the rash completely.
How Can a Bite Rash be Treated?
The swelling and redness that is associated with a bite rash does not clear very easily. However, the itching and discomfort can easily be treated with several remedies including natural remedies and medications.
Oral antihistamines and steroid creams can be used in treatment regime. These medications will help to ease the itching that is associated with the rash.
It is important to remember not to scratch the bites. Scratching the bites ONLY MAKES THEM ITCH MORE and does have the ability to cause a secondary skin infection.
Names of Medications Used for the Treatment
Cortaid
There are topical steroid creams that are applied directly to the affected area to eliminate the itching sensation. One of these creams is hydrocortisone. Hydrocortisone is available with or without a prescription. The lower strength creams may be purchased over-the-counter.
However, if the low dose cream does not work, you may need to obtain a prescription from your physician to purchase a stronger dose.
Creams Containing Dephendrydramine & Pramoxine
The optimal creams contain a mixture of pramoxine to assist with the tenderness and pain and diphendrydramine to eliminate the itching associated with the rash.
Creams & Lotions Containing Benzyl Alcohol
Lotions and creams containing benzyl alcohol may also be used to treat both the symptoms of itching and pain. These lotions and creams can be extremely effective in eliminating the itch to resolve the bite rash rather quickly.
Calamine Lotion
The use of Calamine Lotion will assist in protecting the skin while it heals. It also speeds the drying of the rash, which facilitates a quicker healing process.
Alka-Seltzer
If the individual is NOT allergic to aspirin, a cotton ball can be dipped into an Alka-Seltzer solution and then rubbed onto the bite rash to assist in clearing it up quicker.
Prednisone
Oral steroids are also useful in treating the itching. One of these steroids is called Prednisone and a prescription must be obtained from a physician to purchase this product. It is not an over-the counter medication.
Benadryl
Oral antihistamines can be very effective in relieving the itching sensation. One of these antihistamines is called Benadryl; however, these medications tend to cause drowsiness.
Therefore, this kind of medication is better used prior to retiring. It is not necessary to obtain a prescription from a doctor to purchase this medication. It is an over-the-counter product available at your local pharmacy.
Zyrtec & Claritin
There are some oral antihistamines that may be taken during the daytime and are not prone to cause drowsiness. A couple of these medications are Claritin and Zyrtec. It is not necessary to obtain a prescription for these medications either. Both are available over-the-counter at your local pharmacy.
Oral Antibiotic or an Antibiotic Ointment
If a bacterial infection occurs on the skin, a health-care provider/physician may prescribe an oral antibiotic or antibiotic ointment to treat the skin infection.
Corticosteroids, Antihistamines or Epinephrine Injections
Should an individual be suffering with a systemic allergic reaction, a physician can administer antihistamines, corticosteroids or epinephrine to the individual. *It is important to note that this condition is extremely rare.
Natural Remedies to Consider
Apply lukewarm water above 120°F or 50°C to the area that has been bitten as soon as possible. This has been known to relieve some of the symptoms.
Just by washing the rash regularly with the use of antibacterial soap helps to keep the bacteria from growing on the rash and causing an infection.
Applying a mixture of baking soda and salt to the affected areas will help to relieve inflammation.
Soaking in a lukewarm bath after adding powdered oatmeal will provide some relief from the itching sensation and reduce inflammation. A paste can be made out of the powdered oatmeal and applied to the areas affected.
A paste can be made from water and baking soda. Rub this paste on the area infected with the rash. Let the paste dry and then peel it off. This should help relieve some of the itching.
Lemon juice or Witch Hazel may be applied directly on the bites.
Read more of this article here: http://www.bedbugs.org/how-to-treat-a-bed-bug-rash/